Laser Therapy at Duben Holistic Chiropractic Center
Many patients seeking relief for chronic pain, acute injuries and even nerve damage have seen the light -- in the form of laser light. Laser therapy is a safe, drug-free conservative care technique that can dramatically enhance your body's own healing and pain relief processes. We're delighted to be able to offer this option among our many safe, natural therapeutic techniques at Duben Holistic Chiropractic Center.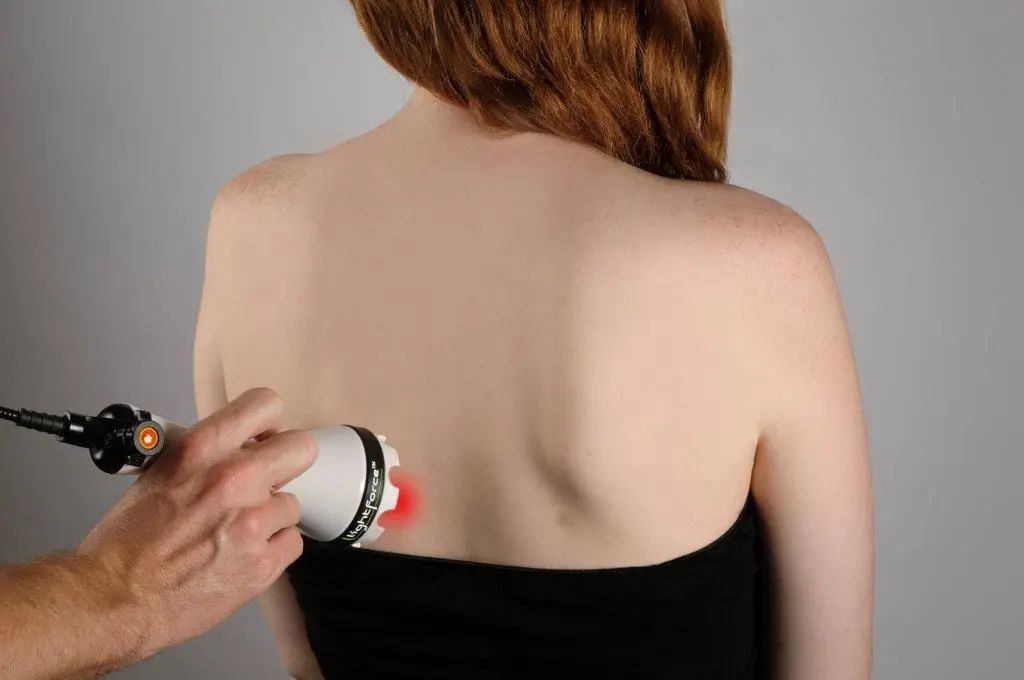 Laser Therapy Treatment on Spine
What Is Laser Therapy?
The term "laser therapy" usually applies to a specific type of laser called a low-level or "cold" laser. This kind of laser beam is not like the surgical lasers that cut through tissues with pinpoint precision and cauterize blood vessels as they go. While both types of lasers are focused beams of amplified light, a "cold" laser operates a lower frequency, one that passes right through the skin without doing any harm to it whatsoever. Its destination: the damaged and/or painful tissue underneath.
The energy of the laser triggers the production of an essential cellular "fuel" called adenosine triphosphate, or ATP. The surplus of ATP gives the cells what they need to repair and replace themselves, an effect called photobiomodulation. This accelerates the healing of injured tissues so you recuperate more quickly. It also increases oxygen availability while reducing pain and inflammation at the treatment site.
Conditions Treated by Laser Therapy
Laser therapy is an extremely versatile form of care that can safely and successfully treat a great many conditions. Your Thousand Oaks chiropractor, Dr. Duben or Dr. Erickson, can add it to your personalized treatment program to help heal, relieve or manage: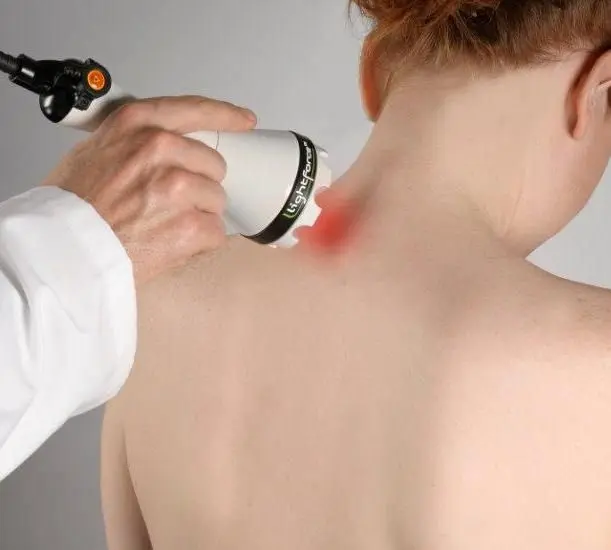 Laser Therapy Treatment on Neck
Tendon inflammations such as lateral epicondylitis
Sprains/strains
Carpal tunnel syndrome
Plantar fasciitis
Patella femoral syndrome
Soft tissue injuries
Acute or chronic joint pain
Back pain, neck pain, and disc injuries
Fibromyalgia pain
Neuropathy and nerve damage
Laser Therapy's Many Advantages
Laser therapy has many important advantages over other healing and pain relief methods. Its non-invasive nature spares you the lengthy recuperation time and post-operative pain associated with surgery. It has none of the worrying side effects, interactions or addictive potential of painkilling drugs -- an especially important consideration for individuals who either cannot tolerate painkillers or are already taking other medications. Laser therapy also has the ability to help speed the healing of nerve tissue while also reducing nerve pain, a "one-two punch" that eludes many other healing modalities. Its safety for the outstanding majority of patients means you can reschedule it as frequently as you like, making it an attractive option for chronic pain management.

Laser Therapy Treatment on Hip
Experience Our LightForce Ex Laser Therapy Technology
Duben Holistic Chiropractic Center is proud to offer the state of the art in modern laser therapy with our LightForce EX Deep Tissue Therapy laser. This Class IV laser, which is capable of greater power output than Class III laser systems, uses two different wavelengths of laser light (810 nanometers and 980 nanometers) to reach deeper levels of tissue for more thorough treatment and optimal results. A typical session may take only 15 to 30 minutes and produces no discomfort of any kind -- in fact, you may enjoy the sensation of warmth it can convey. Several sessions are usually recommended to obtain the maximum pain relief and healing benefits.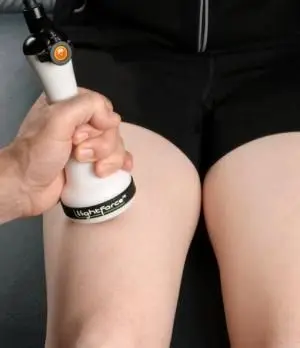 Laser Therapy Treatment on Quad
If you think laser therapy may be the drug-free, surgery-free answer you've been seeking, confirm it for yourself by calling (805) 494-1339 for an appointment at Duben Holistic Chiropractic Center. We can tell you whether you're a good candidate for this remarkable therapeutic technique!